Main content
The History of VA Loans: A Legacy of Support for Veterans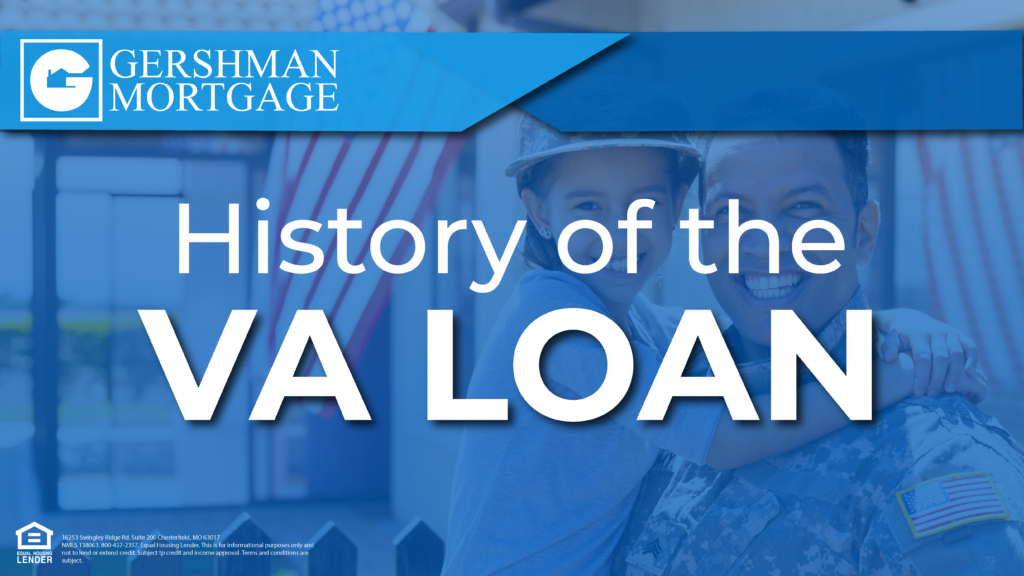 St. Louis, MO – November 14th, 2023 –In the world of homeownership, there exists a mortgage program that stands as a testament to a nation's gratitude towards its Veterans. The VA loan, short for the U.S. Department of Veterans Affairs (VA) loan, is a financial lifeline that has been serving those who served their country for nearly eight decades. As we dive into the history of VA loans, we see a narrative that not only traces the evolution of a remarkable program but also reflects the enduring commitment of the United States to its Veterans.
The story of the VA loan begins during the days of World War II. Soldiers returning home faced an uncertain future, with many struggling to find affordable housing. To address this issue and provide economic stability to Veterans, the Servicemen's Readjustment Act of 1944, commonly known as the G.I. Bill, was enacted.
The G.I. Bill not only provided educational benefits but also introduced the VA home loan program. Through this program, the U.S. government guaranteed a portion of each loan, making it easier for lenders to provide favorable terms to Veterans, such as low or no down payments and competitive interest rates.
The post-World War II era was marked by an unprecedented housing boom in the United States. Veterans, armed with their G.I. Bill benefits, began to claim their own homes. VA loans became instrumental in fueling this housing boom, allowing millions of veterans to become homeowners.
The popularity and effectiveness of VA loans did not teeter after World War II. The program continued to evolve to accommodate the changing needs of Veterans. During the Vietnam era, VA loans underwent several improvements, including the introduction of no-down-payment loans. Over time, VA loans extended their support to not only Veterans but also active-duty service members, reservists, and even certain qualifying family members such as surviving spouses.
Presently, the VA loan program has continued to adapt and remain a cornerstone of support for those who have served in the U.S. military. Changes in legislation have increased the loan limits to accommodate the rising cost of housing in various regions. Additionally, a focus on streamlining the application process has made VA loans more accessible to a wider range of Veterans.
Benefits of VA Loans
1. No Down Payment: VA loans often require no down payment, allowing veterans to purchase homes with minimal upfront costs.
2. Competitive Interest Rates: VA loans typically offer competitive interest rates, which can result in long-term savings.
3. No Private Mortgage Insurance (PMI): Unlike many other mortgage programs, VA loans do not require private mortgage insurance, which can save borrowers money.*
4. Flexible Credit Requirements: VA loans often have more forgiving credit requirements, making it easier for veterans to qualify
5. Refinancing Options: Veterans can also use VA loans to refinance their existing mortgages through the VA's streamline refinance program.
"We are very proud to help tens of thousands of Veterans obtain mortgage financing throughout our company's 68+ year history.  There is a tremendous amount of satisfaction we have from helping those who served." – Adam Mason, President.
If you're interested in purchasing a home, it may be a good idea to sit down with a knowledgeable loan officer before you are ready to buy. Gershman Mortgage staffs only the best and brightest loan officers in the game and they will help you make the best decision for you and your family. Especially when it comes to down payments, they can help you determine a price range that fits your budget and how much you'll need.
When you are ready, contact a Gershman Mortgage Loan Officer to start your journey home today.
About Gershman: Communities, families, and homes are at the heart of what we do at Gershman Mortgage. Our founding principles are based on the core values of honesty, integrity, the entrepreneurial spirit, and putting our customers first. We are passionate and committed to customer service and strive to ensure that we exceed the expectations of our customers. We are a customer-centric company devoted to creating and maintaining long-lasting relationships.
NMLS #138063 16253 Swingley Ridge Road Suite 200 Chesterfield, MO 63017 (800) 457-2357 Equal Housing Lender. https://www.benefits.va.gov/homeloans/documents/docs/history.pdf *Funding fee may be required.